Agent J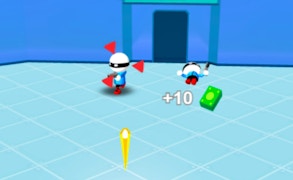 Agent J
Welcome gaming aficionados, thrill-seekers, and adrenaline junkies! Brace yourselves for an electrifying dive into the heart of our latest review - Agent J! Predominantly categorized under gun games, battle games, and police games, it also fits snugly within the realms of gangster games and Skill Games.
The narrative in Agent J is all about covert military operations and the life of a secret agent. You're not just playing a game, but slipping into the shoes of an elite operative. The high-stakes world where victory hinges on your ability to outwit, out-shoot and out-maneuver your enemies will surely test your mettle as well as enhance your manhood.
In this immersive realm of gangster games packed with action galore, every level brings a new mission. Whether it's dodging bullets from rival spies or infiltrating enemy bases under the cloak of darkness – each stage demands unique skills, reflexes, and extraordinary agility. Your audacious exploits will give you an adrenaline-fueled boost that symbolizes pure masculinity!
A standout feature of Agent J is its slick gameplay mechanics. Satisfying gunplay combined with meticulously designed levels provide consistent challenges ensuring there's never a dull moment. As you delve deeper into this addictive battle game, you'll realize it goes far beyond being just another shooting game—it's a test of strategy and subtlety.
If you're seeking a game that gets your heart pumping, brains ticking, and fingers flexing—then look no further! Experience unsurpassed thrill through riveting gunfights, brazen battles, edgy gangster showdowns while honing your skills further in the heart-pounding universe of Agent J.
This exhilarating blend of police games, gun games, skill games and battle games make Agent J an absolute must-play for anyone craving for an inimitable gaming experience! Remember - navigate fearlessly. Play smartly. Shoot precisely. And most importantly – Stay Alive!
What are the best online games?