Subway Spider Kid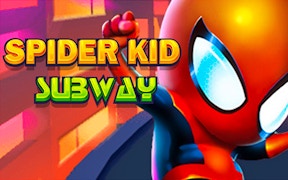 Subway Spider Kid
Welcome to the thrilling world of Subway Spider Kid, the fast-paced action game that will keep your heart racing. This striking blend of running games, skill games and escape games pushes the boundaries of mobile gaming, leaving no room for boredom.
The gameplay revolves around a nimble character - Spider Kid - sprinting through a subway surfer themed city, dodging oncoming robots. A new spin on a beloved genre, this game takes running and skill games to new heights, setting up an adrenaline rush for gamers.
The concept is simple yet addictive: run as fast as you can, dodge the menacing robots and use your quick reflexes to navigate through the gripping chaos of the urban jungle. The formula might be familiar from other running games but Subway Spider Kid adds its own unique streak with exciting features.
Note the intricate details in every step of this high-voltage chase. As the game progresses, it tests your motor skills and reaction times, making it an ideal pick for fans of skill games. Each oncoming robot represents a new challenge forcing you to think on your feet, offering countless hours of engaging playtime.
Besides running and dodging, Subway Spider Kid also allows you to collect coins and upgrade four distinct characters. This coin collection feature builds an enticing layer of strategy required in exhilarating escape games. The ability to upgrade characters gives a sense of progress that keeps players hooked.
In conclusion, Subway Spider Kid successfully intertwines elements from running games, skill games, and escape games into one complete package. The exciting chase sequences coupled with riveting gameplay mechanics make it a must-try for any action game enthusiast out there. So strap in for a breathless experience as you join the most daring chase in Subway Spider Kid!
What are the best online games?