Ragdoll Salvation - Bow Master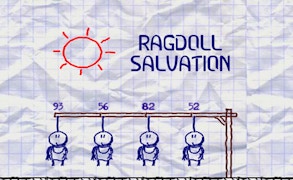 Ragdoll Salvation - Bow Master
Description
Embark on a thrilling mission to save the distressed stickmen in Ragdoll Salvation - Bow Master. In this action-packed game, your task is to shoot arrows and cut the ropes binding the unfortunate, plump stick figures. Show off your archery skills while attempting to get the job done in as few shots as possible.
How to Play
The control system of this game is fairly simple. You aim and shoot using your mouse. Your main objective is to cut all the ropes holding the stickmen with precise arrow shots. Perfecting your timing and accuracy will help you progress and achieve high scores in each level.
Tips and Tricks
Be patient with your shots. It's not all about speed, but more about precision. Consider the trajectory of your arrow before releasing it. Also, use as few arrows as possible to raise your score considerably.
Features
Addictive Gameplay: The game's simple yet captivating mechanics will keep you hooked for hours.
Variety of Levels: Multiple levels with varying difficulties offer endless fun.
Precision-Based Scoring System: The less arrows used, the higher the score.
What are the best online games?