Julia's Food Truck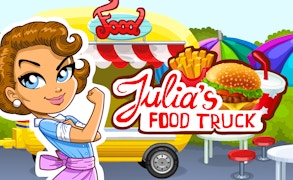 Julia's Food Truck
Description
Welcome to Julia's Food Truck, a captivating strategy game where you step into Julia's shoes and run a bustling food truck. The game immerses players in the dynamic world of cooking and managing a food truck, requiring them to prepare delicious meals, serve customers efficiently, and manage resources wiselyt. Balancing customer satisfaction and business profitability is the ultimate goal.
How to play
Control is primarily mouse-based. Select ingredients, cook meals and serve customers using click-and-drag mechanics. The game progresses as you meet daily earning goals while satisfying customer demands in a timely manner. As your business flourishes, expand your menu and upgrade equipment for quicker service and larger orders.
Tips and Tricks
Maintaining a balanced inventory is crucial. Overstocking may lead to waste, while running out of ingredients frustrates customers. Timing is essential; monitor cooking times to avoid overcooking meals. Always remember: happy customers tip generously!
Features
The game offers:
A dynamic cooking simulator with real-time challenges.
The thrill of resource management and strategy building.
A variety of upgrades for better equipment and expanded menus.
An immersive gameplay experience promoting smart decision-making skills.
What are the best online games?