Bomb Prank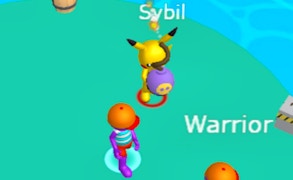 Bomb Prank
Bomb Prank, an action-packed survival game is where excitement meets fun in a multiplayer arena, meticulously designed to indulge its players into a thrilling gaming experience. As part of our action games review series, the aim is to dive into this unique fusion of skill games and management games.
In Bomb Prank, the game's dramatic premise revolves around a time bomb that must be passed between players before it explodes. Each player finds themselves dancing on the edges of their seat, perfecting their timing and strategy with every heartbeat ticking away - turning it into one of the most intense survival games out there.
The heart-stopping thrill begins as the countdown initiates. Unlike typical action games, Bomb Prank gives you a hot potato in the form of an ignited bomb. The objective might sound easy but hand over this explosive item needs not only quick reflexes but shrewd strategies as well - beautifully blending elements of both Skill Games and Management Games.
Exemplifying the true essence of PvP gaming platforms, this game thrusts you into an exciting confrontation with opponents who are just as eager to rid themselves of the terrifying ticking terror. Winning requires skillful management under pressure, a display of agility and strategic brilliance that truly sets Bomb Prank apart in the crowded realm of action-packed survival games.
In conclusion, Bomb Prank delivers a riveting multiplayer experience that redefines adrenaline-fueled gameplay in action survival games genre. It's not just about escaping danger; it's about navigating through it with skillful management and split-second decisions. A must-try for every brave-hearted gamer out there!
What are the best online games?