Minecaves Noob Adventures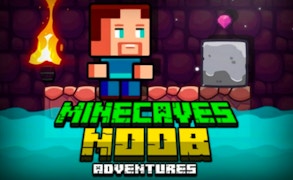 Minecaves Noob Adventures
Dive into the immersive, pixelated world of Minecaves Noob Adventures, an exhilarating romp through the precarious underground environment of a Minecraft-inspired universe. This title is a multi-faceted gem that brilliantly combines elements of pixel games, skill games, and escape games.
A key feature is its robust adventure backbone, where you join Steve in his novice exploits to conquer cryptic caves teeming with danger and intrigue. These are not your typical brain teasers, rather they are challenging brain games designed to test your mental mettle. Be prepared for a labyrinthine journey full of complex puzzles, devious traps, and an array of formidable enemies.
The gameplay in Minecaves Noob Adventures is compelling and multifaceted. The emphasis on skill-based challenge requires precise platforming prowess coupled with sharp intellectual acuity, as you're tasked to collect gems whilst sidestepping treacherous pitfalls. Weapons and keys become crucial assets for survival as you navigate through spike-ridden passages and evade lurking enemies.
Battles aren't just waged against foes but also against the elements as claustrophobic tunnels give way to sprawling rivers. By carefully exploiting the mechanics of light and shadow, Minecaves Noob Adventures crafts an intensely atmospheric experience. This clever utilization of environmental factors amplifies the sense of perilous exploration that lies in every pixel.
In conclusion, Minecaves Noob Adventures successfully merges the captivating allure of pixel games with the strategic complexity of escape games. It's more than just another entry into the growing library of skill games; it's a testament to how engaging game design can create a rewarding cycle of tension and triumph.
What are the best online games?