Join Clash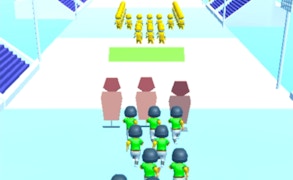 Join Clash
Immerse yourself in the thrilling world of arcade adventures with Join Clash, a stellar addition to the ever-expanding universe of stickman games. This high-paced steeplechase journey is custom-made for adrenaline junkies who thrive on running games and love showcasing their gaming prowess.
The quirky charm of stickman characters is married expertly with a fast-paced race that traverses a world riddled with obstacles. Join Clash isn't just another game; it's a rollercoaster ride that tests your reflexes and agility, placing you right into the heart of an action-packed gauntlet.
Your snoozing avatar needs your aid! Rouse them to battle the hurdles that lie ahead, gather your athletic prowess, and guide them to the finish line. This game will engage all your senses as you maneuver your way through steadily increasing difficulties in this standout among Skill Games.
The title, Join Clash, is as much a call to action as it is an invitation into this fast-paced world. The game's core mechanics revolve around bypassing obstacles while amassing as many points as possible; it's simplistic yet sophisticated gameplay ramped up by beautiful graphics and exhilarating sound design.
This game's grip tightens with each level, making every new milestone feel like a hard-earned victory. It's a perfect blend of skillful navigation and split-second decision-making that makes Join Clash one of the most captivating stickman games out there.
In conclusion, Join Clash takes arcade gaming to an entirely new level with its slick controls and appealing gameplay. It's an adrenaline-filled joyride from start to finish and breathes fresh life into running games!
What are the best online games?