Heroes of Mangara. The Frost Crown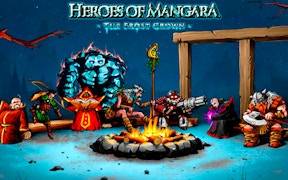 Heroes of Mangara. The Frost Crown
Prepare to sail towards the frigid north in the much-anticipated RPG strategy game, Heroes of Mangara: The Frost Crown. This game takes your favorite elements of battle games, monster games, sword games, and archery games and ties them all in a frosty little bundle. The primary objective? To obtain the coveted Frost Crown, a powerful artifact steeped in mystique and danger.
This phenomenal continuation of a successful tower defense series is every bit as thrilling as it sounds. Not only are there twelve unique heroes to choose from, but each one possesses a set of skills that sets them apart from the rest. Whether you prefer the sleek agility of an archer or the raw power of a swordsman, there's a hero for you amidst this diverse roster.
One remarkable feature that sets Heroes of Mangara: The Frost Crown apart from other games in this genre is its potent combination of RPG elements with strategic management gaming. Talent points can be earned at each level to upgrade your heroes and learn new spells or abilities. This gives players an opportunity to not just conduct epic battles but also manage their characters' growth effectively giving it an edge as one of the more engaging management games.
The decision-making doesn't end there though. Players must carefully choose which heroes they bring on their mission due to each having different strengths and weaknesses. This ensures that strategy is at the heart of every battle where players have to decide whether to attack or heal and when to cast mighty spells from their spellbook.
The game keeps things interesting with multiple game modes on offer including hardcore difficulty for seasoned players seeking for an adrenaline rush. As you progress through this journey, more heroes join your party contributing to your overall score which is an aggregate of achievements and levels won across all modes.
In conclusion, Heroes of Mangara: The Frost Crown pushes boundaries for both RPG and Strategy genres by seamlessly blending thrilling battles with strategy design while ensuring continuous excitement through character growth and strategic decisions making it an unmissable title for fans of these genres.
What are the best online games?