Hair Chop Risk: Cut Challenge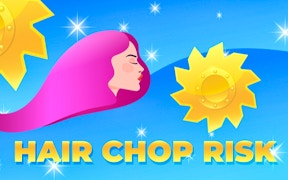 Hair Chop Risk: Cut Challenge
Immerse yourself in the thrilling world of Hair Chop Risk: Cut Challenge, a captivating exploration of skill and precision as you navigate through the fast-paced dynamics of this breathtaking arcade game. This game merges the thrill of Hairdresser Games, the precision required in Skill Games, the simplicity of Hyper Casual Games, and the adrenaline rush associated with Flying Games.
Your mission: to protect your crowning glory - your super long hair, from the ruthless, flying blades ready to chop it all off. Every swipe, every dodge is a calculated move towards maintaining your beauty as you duck and dive to evade these hair-razing threats.
The genius behind Hair Chop Risk: Cut Challenge lies in its ability to transport you into a world where your reflexes are constantly put to test. The anticipation builds up as you glide your fingers across the screen, steering clear from the menacing blades all set to deliver an untenable haircut. It's nerve-wrecking, it's exhilarating and it keeps you on your toes, making for an unforgettable gaming experience.
The addictive nature of this game is amplified by its immersive gameplay and visually appealing graphics that capture the thrill of this life-and-death struggle for hair preservation. Whether you are a novice at arcade games or a seasoned pro, Hair Chop Risk: Cut Challenge offers every player a chance to prove their mettle.
In conclusion, Hair Chop Risk: Cut Challenge blends distinctive elements from various genres creating an unforgettable gaming experience which both challenges and engages players in equal measure. Get ready for some adrenaline-pumping action that tests both your timing skills and nerves while keeping you endlessly entertained!
What are the best online games?