Empire Island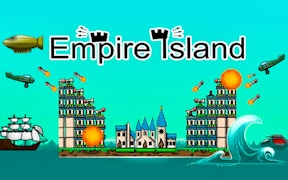 Empire Island
Welcome to the rich tapestry of Empire Island, a masterpiece in the realm of strategy and management games. This game seamlessly blends elements of city building games, money games, and battle games thereby immersing its players in a world that thrives on strategy, precision, and thought.
Empire Island is not your typical 'build and conquer' fare. Here you're not just building structures but creating an entire civilization that spans through different ages. The game hands you the reins to manage resources - from constructing diverse units including multiple types of weapons to ramping up population for tax collection.
In this exhilarating war game, the battlefield is nuanced. There are no dull moments but a constant call to strategize your defense with mines, explosive balloons and tesla coils against escalating levels of enemies - from simple wooden boats to high-tech alien invaders.
A defining feature of Empire Island is its focus on physics-based strategies. It's not about mindless tapping but applying genuine thought into every decision you make. And with almost everything upgradeable, Empire Island offers profound depth unseen in most building games.
An intriguing element woven into this strategy game is the raw power that 'Acts of God', such as Lightning, Tsunamis, and Firestorms introduce. These game-changers bring unexpected twists ensuring every playthrough feels fresh.
However, let it be known - Empire Island is not for the casual gamer looking for a quick fix. If an hour-long session steeped in strategic decision making doesn't sound appealing, then this might not be your cup of tea.
In conclusion, Empire Island sets a high benchmark for all other city building games and war games to aspire to. A true confluence of strategy and management wrapped in compelling gameplay - something every strategy game enthusiast should experience!
What are the best online games?