Dinosaur Bone Digging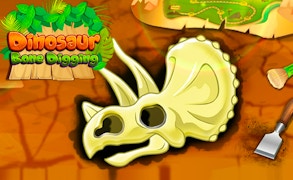 Dinosaur Bone Digging
Embark on the ultimate prehistoric journey with Dinosaur Bone Digging, an exhilarating game that intertwines the realms of hidden object and clicker games. This entrancing blend of exploration and interactive gameplay offers more than just a game - it's a hands-on virtual experience into the world of Paleontology.
The game is perfectly curated to stand out in the massive ocean of dinosaur games. It takes on a unique gameplay approach, combining elements from your traditional hidden object games with engaging mechanics typical to clicker games. As you delve into Dino Quest's immersive world, you become a bone-digging archaeologist in search of secrets that have remained hidden for millions of years.
The exciting premise of Dinosaur Bone Digging isn't its only charm. The game brings learning to life! Each step of your Jurassic adventure is packed with facts about dinosaurs and archaeology, meticulously blending education with entertainment. You're not just clicking away aimlessly on your screen; you're also subconsciously picking up knowledge about these majestic creatures that once roamed our earth.
Visuals are lush, captivating every dinosaur lover's heart from the get-go. The sound effects are perfectly aligned with the adventurous mood of the game. Controls are smooth, ensuring seamless navigation as you dig deeper into the mysteries of our planet's past.
In a nutshell, Dinosaur Bone Digging triumphantly stands at the intersection where gaming meets learning. It offers an incredible adventure brimming with hidden discoveries, mesmerizing visuals, engaging clicker mechanisms, and tidbits about our world's ancient history. It's more than just one of many dinosaur games: it's a passion-project for all fans of hidden object and clicker games.
What are the best online games?