Thief Puzzle Online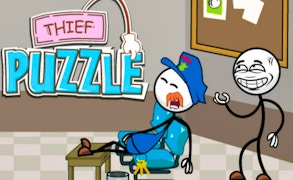 Thief Puzzle Online
Welcome to the world of Thief Puzzle Online, a vibrant universe teeming with daring heists and brain-tickling riddles. One part action, one part puzzle, this game is an exhilarating blend that not only tests your mettle but also your mental prowess.
Released under the genre of clicker games, Thief Puzzle Online is a refreshing take on Hyper Casual Games. Its interface is slick yet simple, ensuring minimal hassle and maximum enjoyment. This game shines in its unique approach to gaming - it masterfully combines elements of police games, gangster games, and even stickman games. The result is an immersive experience that keeps you on the edge of your seat.
In Thief Puzzle Online, you don the role of a cunning stickman thief entrusted with the mission to retrieve priceless artifacts. These aren't ordinary smash-and-grab operations though. Each level is a labyrinth of its own, bringing with it a new set of challenges to overcome and puzzles to solve. Every click takes you closer to your goal and further into this addicting realm.
From rookies to veterans, Thief Puzzle Online caters to gamers of all skill levels. Its straightforward gameplay makes it the perfect choice for those new to the world of online gaming while its intricate puzzles ensure even seasoned gamers keep coming back for more.
If you're in search for an online game that's fun yet challenging, look no further than Thief Puzzle Online—available for free on Kiz10.com! This blend between clever puzzles and heart-pounding heists guarantees hours upon hours of excitement.
Create strategies, outsmart opponents, make daring escapes; in Thief Puzzle Online—the world is your playground. Dive headfirst into this whirlwind adventure where every second count and every click yields untold treasures!
What are the best online games?