Tank Trouble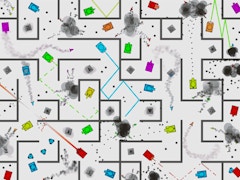 Tank Trouble
Tanks are destructive but being able to drive one would make you feel pretty cool or awesome or both which is why Tank Trouble is here to help with that. While not driving the tank directly, it appears that you're controlling a little RC tank through a maze over which you have a full bird's eye view perspective. The tank is cute and colorful but it isn't alone since other tanks are also driving around the maze and they're anything but friendly. To have any chance of getting out, you'll need to be the last tank standing by using clever maneuvering and creative aiming.
About Tank Trouble
Games about tanks seem to go all over the place from extremely realistic to extremely outlandish. This game is definitely leaning more toward the latter and a toy-like take on the whole experience. It gives a whole relaxed and somewhat innocent air to the whole scenario since these may as well be model tanks using model weapons and the only thing making them devastating is our own imagination. It's also a fairly quick game that lets you jump into a variety of matches to play as long as you want until you win or until you're satisfied.
How to Play
Tank Trouble is a top-down 2D game about controlling a tank through a maze and firing at other tanks using the mouse or keyboard. Whether you're playing locally with friends or not, you have the option of three different control schemes.
Control Scheme 1
W - Move Up
S - Move Down
A - Move Left
D - Move Right
Q - Fire Weapon
Control Scheme 2
Up Arrow - Move Up
Down Arrow - Move Down
Left Arrow - Move Left
Right Arrow - Move Right
Spacebar - Fire Weapon
Control Scheme 3
Mouse Cursor - Lead Tank Around
Left Mouse Button - Fire Weapon
The goal of each match is to be the last tank standing. Each round spawns each tank in a different location. The tanks must then navigate through the maze to try and eliminate each other. All tanks start with a standard cannon weapon that shoots a small cannonball-like projectile. The tank will always fire in whatever direction that it's facing. When there's only one tank left, that tank earns a point and the next round begins. The tank with the most points at the end wins the match.
Tanks only have one form of attack and that's to use their equipped weapon. The cannonball that they start with can bounce off and around maze walls in order to hit targets around corners. However, metal plates around the maze will appear that tanks can collect to gain new weapons. These range from homing missiles to mines, to laser-sight cannons. Each weapon has a limited amount of ammo, but more can be collected in other parts of the maze. There are also gold coins that can be collected as well to serve as currency for aesthetics.
Tips and Tricks
You may be tempted to just spam shots as much as possible, but remember that your projectiles are just as dangerous to you as your opponents. You should also be cautious when using explosives as some have shrapnel which can just as easily backfire on you.

Game Details
Developer: Mads Purup
Platforms: Web Browser (PC and mobile) and iOS
Languages: English

Gameplay Footage
FAQs
Can I play Tank Trouble online?
The game may be designed to accommodate up to three players locally, but it also has its own servers so that you can play with other people online.
Games similar to Tank Trouble
From the mechanics and gameplay, this game fits into the Multiplayer and Tank Games categories on GamePix. Other games in those sections include C.A.T.S., EV io, Tanks Squad, and Stick Tank Wars.
What are the best online games?
TAGS