Snow Plow Jeep Driving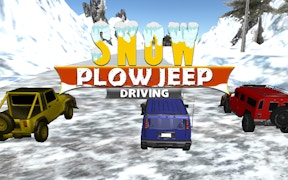 Snow Plow Jeep Driving
If you're a fan of car games, truck games and intense driving games, brace yourself for the wintery thrill with 'Snow Plow Jeep Driving'. This fascinating addition to chill-inducing Offroad games will leave you at the edge of your seat with its riveting gameplay.
The cool allure of heavy excavator snow plow games has always held a special charm. With the onset of winter in cityscapes and hilly terrains, the game transports you into an icy wonderland. Glaciers packed with snow pose an imminent danger to the people, giving a high-stakes feel to your driving adventure. It's time to sling on your professional cap, take charge, and navigate ice-laden roads with precision.
'Snow Plow Jeep Driving' pushes the boundaries of conventional car games and catapults you into an authentic offroad experience. Forget your regular asphalt races, this is about battling nature's frozen fury. You're not just competing against other players here; you're taking on the elements themselves.
Your objective? To driveway the chunk-laden ice roads with agility and bravery in your robust jeep - a vehicle designed to win against winter's wrath. The potent intertwining of real-time weather challenges and complex terrains sets this game apart from traditional truck games.
This game promises heart-thumping moments, as each spin, turn, and drift on the slippery surfaces tests your nerves and driving expertise. The vivid graphics immerse you into a frosty environment that is as dangerous as it is beautiful.
In conclusion, 'Snow Plow Jeep Driving' incorporates all essential elements of top-rated offroad games, presenting a perfect blend of action-packed driving sequences wrapped up in a spectacular winter setting. This is one Jeep experience that offers more than just revving engines—it's about mastering control amidst chaos.
What are the best online games?