Run Run Duck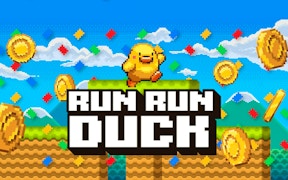 Run Run Duck
Diving headfirst into the delightful pixelated world of Run Run Duck, one cannot help but be charmed by its nostalgic nod to beloved Retro Games. Seamlessly merging the vibrant innocence of animal games with the tense agility demanded by running games, Run Run Duck is a must-play for arcade-lovers craving for that elusive blend of charm and challenge.
As you navigate your way through this visually delightful world as a cute, pixelated duck, you'll find yourself jumping over slimes and breaking bricks with an intensity that would put even Mario to shame. The mechanics are quick to grasp but remain enticingly challenging, providing just enough sense of achievement without veering into the realm of frustration.
Your objectives, while straightforward on the surface - collecting coins and powerups - are subtly layered, forcing players to strategize and adapt. The prospect of enhancing your duck's skills and stats dangles a tantalizing carrot in front of gamers, blending elements from RPGs into this otherwise quintessential arcade experience.
The ultimate aim of reaching the golden egg harks back to yesteryears' traditional platformers, evoking those cherished moments sitting in front of older consoles. Yet, it's not all nostalgia here – there's a freshness present in Run Run Duck that prevents it from being merely an echo of its predecessors.
In this endearing homage to classic Retro Games, blending multiple elements from animal games, pixel games, and running games, 'Run Run Duck' stands out as an innovative entry in today's arcade landscape. It embraces nostalgia without being utterly consumed by it – a modern take on classic gaming that ensures you won't want to press pause anytime soon.
What are the best online games?