Princess Mermaid Realife Shopping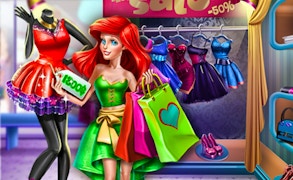 Princess Mermaid Realife Shopping
Step into the dazzling world of fashion and fun with Princess Mermaid Realife Shopping, a brilliantly crafted offering in the genres of games for girls, money games, and dress up games. It truly stands out as one of the most engaging and delightful fashion games in the market today.
Dive deep into this enchanting adventure with your favorite mermaid princess, where your mission is not only to collect bills but also to indulge in a shopping spree like no other. As far as mermaid games go, this one truly immerses you into a sea of fashion choices that will leave you spoilt for choice.
The game smartly integrates money management with the allure of retail therapy. The princess realises she doesn't have enough money just as she is about to hit the store, setting you off on a quest gathering enough for the most fabulous dresses, shoes, and accessories. This blend of strategy in money games with creativity of dress up is what sets Princess Mermaid Realife Shopping apart from typical fashion games.
The best part? If you happen to run out of cash for everything your heart desires, you get back to work. There's absolutely no stopping until you empty out the entire store! This unique feature adds an extra layer of challenge that enhances the gameplay and ensures long hours of entertainment.
In conclusion, Princess Mermaid Realife Shopping is not just any ordinary game—it's an experience! Among all other available princess games, it undoubtedly offers an immersive experience and exciting challenge that will keep every fashion-savvy mermaid hooked for hours on end.
What are the best online games?