Hero Stunt Spider Bike Simulator 3d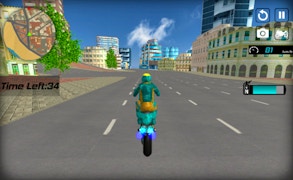 Hero Stunt Spider Bike Simulator 3d
Unleash your inner daredevil with Hero Stunt Spider Bike Simulator 3D, one of the most captivating motorcycle games on the market today. This isn't just a game – it's a thrilling escape into a world where gravity doesn't apply and the impossible becomes possible.
The heart-pounding thrill of superbike racing leaps off the screen and into your living room with this exceptional title. Unlike other dirt bike games, Hero Stunt Spider Bike Simulator 3D combines high-speed racing with gravity-defying stunts, making it an adrenaline-fueled journey that will keep you on the edge of your seat. From breathtaking backflips to dizzying drifts, every mission challenges you to push beyond limits and redefine what's possible.
But what truly sets this game apart from other driving games is its immersive gameplay. The realistic maps paint a vivid picture of the world ready for your tire tracks. The game's freedom of riding is second to none – ride as fast as you want, wherever you want, and feel the sheer exhilaration of speed without any constraints. This unique blend of features makes it more than just another addition to the realm of simulator games.
In conclusion, Hero Stunt Spider Bike Simulator 3D takes drifting games to a whole new level. With its striking graphics, gripping missions, and heart-stopping stunts, it delivers an immersive gaming experience that is sure to satisfy even the most passionate bike enthusiasts out there. It's not just about conquering tracks or crossing finish lines; it's about taking on the impossible and making your mark in an exciting virtual world.
To all adrenaline junkies in search of their next big thrill - look no further than Hero Stunt Spider Bike Simulator 3D - where speed meets style, daring meets drifting, and entertainment meets exhilaration!
What are the best online games?