Getaway Shootout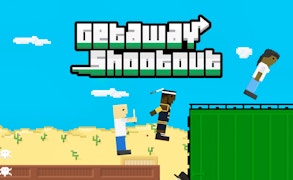 Getaway Shootout
When physics was introduced to games, designers used them to create more realism or more chaos just like in Getaway Shootout. This is a 2D platforming game that makes its statement as a competitive experience. The music immediately sets the mood for what you're in for, which is non-stop jumping and flailing. It's a game that makes finesses almost impossible unless you actually have mastery of the game's mechanics and physics. Still, it poses a fun time for a party or a way to test your understanding of angles and tilting all for the purpose of winning.
About Getaway Shootout
It takes a certain skill to make a game out of the engine with players trying to use minimal controls to try and get through it. This game has a teaching curve that gets easier to manage the more you play. It's so fast and easy to take in that you can find yourself getting better in just a few matches. Just know that these increments are much smaller than in your usual gaming progression, but that just means you need to keep at it. Or, you can just jump in with a friend and see which one of you can weather the chaos better.
How to Play
Getaway Shootout is a 2D platform game that is played entirely with the keyboard. The controls will differ depending on the player.
Player 1 Controls
W - (Hold) Tilt Left, (Let Go) Jump Left
E - (Hold Tilt Right, (Let Go) Jump Right
R - Use Power-Up
Player 2 Controls
W - (Hold) Tilt Left, (Let Go) Jump Left
E - (Hold Tilt Right, (Let Go) Jump Right
R - Use Power-Up
The goal of each level or round is to get to the getaway point at the end. You'll be competing with three other characters in a race to get there first. You'll need to tilt and jump effectively to get past all the obstacles and reach all the different platforms. As you make your way through, you can collect power-ups like weapons and shields. When you do, you can press the Use button to attack your opponents or to protect yourself. You can only carry one at a time and you can't get rid of it until you use it or you respawn.

Whenever you take too many attacks or fall from too great a height, you'll respawn at an earlier point in the section. When one character reaches the getaway point, the round ends. The first character to make three getaways wins the match

Tips and Tricks
This is a game that you can't rush, but you have far more control over your angle. Remember that the tilting is not only to make progress but also to maintain your balance. Be wary of other players especially stairs since these are difficult to jump from and can really set you back.

Game Details
Developer: New Eich Games
Platforms: Web Browser (PC and mobile) and Android
Languages: English
Gameplay Footage
FAQs
Can you play Getaway Shootout online?
While the game does offer and seems made for multiplayer, it's limited only to two players. Both the Web Browser and app versions require you to play locally.
Games similar to Getaway Shootout
With the way that the game is designed, it can be found in the 2 Player and Running Games categories on GamePix. You can also play Gang Fall Party, 1v1.lol, Parkour Vlimb And Jump, and Monster Rush Game
What are the best online games?