Bike Racing Bike Stunt Games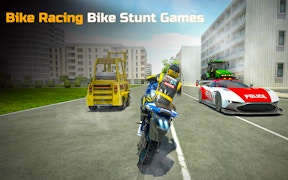 Bike Racing Bike Stunt Games
Welcome all motorsport enthusiasts to our latest game review! Today, we delve into the heart-pounding adrenaline rush that is Bike Racing Bike Stunt Games - a standout contender in the categories of drifting games, driving games, dirt bike games, motorcycle games and simulator games.
A free bike simulator game doesn't always hit the mark with gamers, but this one defies all stereotypes! With its vast array of options and seemingly endless possibilities, it's not just a game; it's a world where speed and stunts reign supreme.
From the get-go, immerse yourself in the first-person view perspective with real HD visuals. The level of realism takes this genre to an unprecedented height. One moment you're preparing for a risky stunt on a mega ramp; the next, you're keeping close tabs on your rivals' every move in this fiercely competitive world of bike racing.
If you're the kind of gamer who gets an adrenaline kick from high-speed stunting and relishes taking risks on grand bikes, then you're in for a treat. This game challenges your skills to their limits with precise control over your motorcycle - a feature that will resonate strongly with simulator game fans. The thrill is intensified by the introduction of extreme stunts that will leave you awestruck.
The bike rally seems to have no limits; it's a veritable feast for speed lovers. The amazing motorbike stunts are no short of fantastic and pose apt challenges that will keep you engaged till the end. The stunning environment is an added bonus that makes it more than just another one among countless biking games; it's a unique blend of motorcycle games' intensity and the unpredictability inherent in drifting games.
In conclusion, Bike Racing Bike Stunt Games takes bike racing games to their zenith with mind-boggling stunts and awe-inspiring visuals. It's not just about winning; it's about conquering every challenge immaculately in this gratifying mix of dirt bike and motorcycle simulator games!
What are the best online games?