Awareness Game: The Robot Bar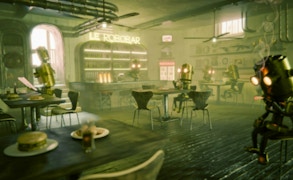 Awareness Game: The Robot Bar
Dive headfirst into the dazzling world of Awareness Game: The Robot Bar, a captivating fusion of trivia games, robot games, memory games, and brain games. This vibrant puzzle game challenges your cognitive abilities in the most exhilarating way possible.
Situated in a bustling robot club, this game takes you on an electrifying journey where every moment is a test of your memory. Be prepared—this isn't your run-of-the-mill memory game. Within a tight timeframe of just 10 seconds, players are expected to commit every detail to memory. Can you remember just how many robots were shaking their metal bodies to the beat? Or perhaps the color of the robot bartender's tie?
But don't be fooled — it's not just about observation and recall; The Robot Bar also serves up a concoction of trivia questions that will truly get your mental gears grinding. Not only does it challenge your memory skills, but also puts your general knowledge to the test with its stimulating trivia questions.
The difficulty spikes up quickly, making it hard to score ten in a row – you have been warned! But that's where lies its charm; frustration soon turns into obsession as you strive to improve upon your previous high score. A refreshingly difficult challenge awaits all fans of brain games — this is the ultimate thrill for those who live for mental gymnastics!
In conclusion, Awareness Game: The Robot Bar successfully fuses elements from various genres — trivia games with aspects of robot and memory games — creating an undeniably addictive and challenging brain game experience!
#AwarenessGame #TheRobotBar #TriviaGames #RobotGames #MemoryGames #BrainGames
What are the best online games?