AirSpace2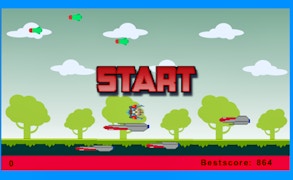 AirSpace2
Description
Take to the skies in AirSpace2, an exhilarating blend of arcade and adventure gaming. Navigate through treacherous terrain and overcome various challenges while soaring in your aircraft. The game is packed with action, offering diverse landscapes to explore and distinct missions to complete. Breathtaking visuals and adrenaline-pumping gameplay will immerse you in this high-flying adventure game.
How to Play
The game harnesses straightforward controls: use arrow keys or touch controls (for mobile users) to maneuver your aircraft. Avoid obstacles and collect power-ups to enhance your flight capabilities. Progress through the game by successfully completing each diverse mission. The complexity increases as you level up, so prepare for an escalating challenge!
Tips and Tricks
Stay attentive of your surroundings - obstacles can appear from nowhere. Utilize power-ups strategically; they can make a significant difference in tricky situations. Learn the patterns of levels to predict the placement of power-ups and obstacles. Remember, patience is key; not every mission needs to be done at record speed.
Features
Riveting High-Flying Adventure Gameplay
Diverse Missions and Challenging Obstacles
Intuitive Controls Suitable for all ages
Stunning Visuals With Immersive Landscapes
Energizing Power-Ups to Enhance Gameplay Experience
What are the best online games?
Tags