Woodturning Simulator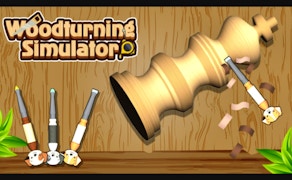 Woodturning Simulator
Step into the enthralling world of hyper casual games with the immersive and highly engaging Woodturning Simulator. The game delivers a unique blend of creativity, intellectual stimulation, and sheer entertainment in a package so addictive; you'll be hard-pressed to put it down.
This isn't just another run-of-the-mill addition to the already brimming library of drawing games. Woodturning Simulator stands out on its own, fostering an environment that encourages unleashing your innate knack for design and showcasing your ability to master the art of woodturning. It's a game that doesn't just pique your interest but instead lures you into its captivating universe where you're the craftsman, ever-ready to create intricate pieces that exude stunning beauty.
The beauty of this simulator game lies not just in its cutting-edge graphics or seamless controls. It's in the way it stimulates your mind, pushing you beyond the boundaries of traditional gaming. Your mission is to slice through wooden patterns, turn them on a lathe, and make a masterpiece out of seemingly dull pieces - all this with exceptional precision and timing. It takes you on a journey from being an ordinary gamer to an artisan who crafts remarkable wooden pieces.
Above all, Woodturning Simulator creates an enriching experience that everyone can enjoy from the comfort of their own home. Whether you're seeking an escape from daily adrenaline-pumping games or looking for something more grounded yet equally stimulating, Woodturning Simulator checks all boxes. It's not often one finds a game that offers both relaxation and excitement in equal measures while tickling your creative fancies.
A mesmerizing amalgamation of aesthetically pleasing visuals and an irresistible gameplay loop - Woodturning Simulator is indeed an arcade gem waiting to be discovered by gamers worldwide.
What are the best online games?