Star vs Evil Avatar Maker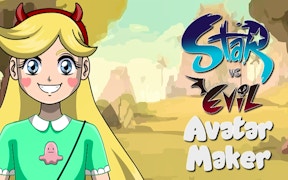 Star vs Evil Avatar Maker
If you are on the constant hunt for intriguing and immersive games for girls, particularly those that intertwine the worlds of dress up games, anime games, and makeup games into one delightful package, let me introduce you to the enchanting world of Star Butterfly in a unique game - Star vs Evil Avatar Maker
The protagonist Star Butterfly, who is not your everyday princess, leaves her magical dimension of Mewni to practice her ineptly managed powerful magic wand skills on Earth. This delightful narrative serves as the backbone of our adventure and is sure to resonate with fans of anime games. Alongside her trusted ally Marco Diaz, Star Butterfly's ultimate mission is to protect her precious wand from invincible universe-conquering monsters.
The true magic lies in the highly flexible customization options this game offers. As one part dress up game and one part character creation suite, Star Vs Evil Avatar Maker offers an array of vividly colored clothing pieces that allows gamers to unleash their creativity. You can recreate your favorite characters such as Star herself, Marco Diaz or even Jackie Lynne in a myriad of ways.
If you were ever fascinated by Hairdresser Games, prepare to dive into another level where you can play around with hairstyles fitting for a princess from another dimension. The hairstyles offered reflect the quirky charm and personality of each character.
In conclusion, Star vs Evil Avatar Maker opens up a magical dimension full of intrigue and fun. Whether you are a fan of makeup games, love styling hair or simply enjoy creating your own versions of your favorite characters, this game is sure to keep you enchanted! With its simple yet engaging gameplay mechanics and charming art style, it's a perfect addition to any girl's gaming collection!
What are the best online games?