Santa Resurrection Emergency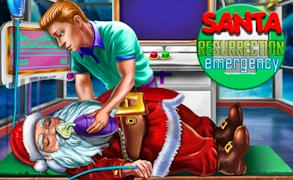 Santa Resurrection Emergency
Welcome to the exciting realm of Santa Resurrection Emergency, a unique blend of festive cheer and real-world education. This intriguing game falls under the umbrella of games for girls, christmas games, and most importantly, operation games.
Every child's dream is to help Santa Claus, and this game allows just that. As the story unfolds, one of Santa's reindeers runs out of magic dust leading to a less-than-smooth landing. Santa is injured and it's up to you to get him back on his feet - literally! The premise is delightful yet respectful, marrying the magic of Christmas with a quick runinto healthcare.
Santa Resurrection Emergency stands out amongst other games for girls. Not only does it provide an opportunity for them to step into the shoes of an emergency room doctor, but it also encourages them to learn some basic procedures like CPR. The gameplay is immersive, introducing real-life medical knowledge in a fun yet profound way.
This is not just another addition to the roster of Christmas games. It seamlessly blends drama, festivities, and much-needed educational elements. You are not merely playing a game; you are thrust into an enchanting narrative where your primary task is ensuring that Santa can continue his gift-delivering mission.
Santa Resurrection Emergency is more than just one among many operation games. It gives kids a chance to learn about emergency medical procedures in the most enjoyable environment possible. Being Santa's doctor has never been this engaging or enlightening!
In conclusion, if you're seeking an engaging playtime experience that also imparts essential life skills, look no further. Make sure you add Santa Resurrection Emergency </ b >to your list this holiday season!
What are the best online games?