Rubber Band Slice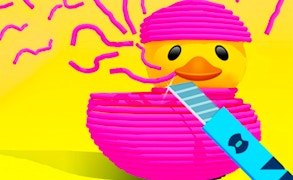 Rubber Band Slice
Immerse yourself in the unconventional fun with Rubber Band Slice, a standout title in the genre of Hyper Casual Games. This arcade game offers an addictive journey into slicing and cutting rubber bands taped on a variety of objects, engaging users with its unique concept and gameplay.
The satisfaction that comes from slicing through the virtual tension of a tightly wound rubber band is unlike anything else you might have experienced in the sphere of traditional arcade gaming. It provides an unexpected yet surprisingly delightful twist to what one may conventionally consider fun games.
Slicing and cutting isn't merely about racking up scores or progressing through levels. What makes Rubber Band Slice truly distinct is how it carefully incorporates elements of ASMR. The mechanic of cutting rubber bands has been executed in such an aesthetically pleasing manner, that it not only engages your senses but also offers a soothing effect, relaxing your mind.
The combination of visual satisfaction, stimulating sounds, and the frequently changing objects bound by the rubber bands ensures that each slice feels fresh and keeps you hooked for hours.
In this era where the popularity of Hyper Casual Games is on the rise, Rubber Band Slice offers a uniquely satisfying experience. Whether you're a seasoned gamer seeking something new or someone just stepping into this vibrant world of arcade gaming, Rubber Band Slice is sure to provide you with an intriguing experience—a slice, if you will, of simple yet captivating fun gameplay.
If you're seeking fun games that offer relaxation alongside their gameplay mechanics, then look no further than Rubber Band Slice—your gateway to pleasureful ASMR experiences disguised as thrilling rubber band cuts!
What are the best online games?