Pinball Football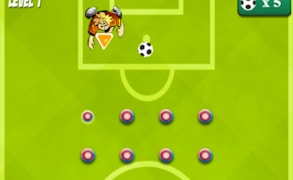 Pinball Football
Get ready sports fans! I'm thrilled to bring you a fresh spin on the classic game of pinball in my review of Pinball Football. This unique title is a dynamic hybrid that combines the fast-paced, addictive nature of skill games and the strategic finesse of ball games into one epic experience.
At first glance, you might think it's just another one of those football games. But trust me, it's so much more. Borrowing elements from popular soccer games, Pinball Football breathes new life into the arcade genre. It demands agility and precision just as much as it requires strategy and cunning.
The game presents you with a total of 20 levels, each tasking you with scoring four goals against a crafty engine that adapts to your playstyle. As you progress to higher levels, the challenge intensifies. The vector physics are realistic; the graphics are sharp and vibrant, capturing every thrilling moment in stunning detail.
What truly sets Pinball Football apart from traditional soccer games is its distinct pinball mechanic. It's not all about kicking the ball; it's more about directing it towards the right paths at the right times, just like in pinball. The game rewards finesse just as much as brute force.
To wrap things up: whether you're an ardent fan of arcade games or someone seeking out dynamic skill games and innovative football games, Pinball Football is exactly what your gaming repertoire needs. It's not merely another one amongst countless soccer games – it's an immersive journey where each level transcends into a challenging strategic battle!
What are the best online games?