Merge Dreams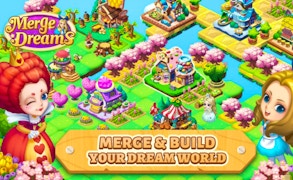 Merge Dreams
Welcome to all puzzle-loving gamers! Today, we're diving into the engrossing world of Merge Dreams, an enthralling mix of building games and anime games, with the charm of animal games. Positioned gracefully in the realm of Games for Kids, Merge Dreams offers an appealing combination of match 3 games mechanics and jewel games aesthetics.
Merge Dreams invites you to construct a vibrant wonderland teeming with captivating classic characters and stories. The game's defining facet resides in its strategically engaging gameplay: combine anything and everything into superior items to aid your journey. This way, not only do you have fun, but you also foster your creativity and strategic thinking- a top feature among kids puzzles.
Your mission is to build and upgrade an array of buildings that churn out a plethora of useful products. As you complete tasks and apply these products, you essentially earn more gold which propels your gaming experience. It is like constructing your empire, one jewel at a time.
This game isn't just about achieving higher levels. It's about unravelling more intriguing characters and stories as you move along. The more experience points you get, the higher you level up, unlocking new lands and characters - each with their unique narratives to discover.
Merge Dreams breaks away from conventional building games or anime games, transcending into a fresh amalgamation that broadens the scope for Games for Kids; it's cohesively packed with match 3 games thrill sprinkled with playful aspects of animal games.
Overall, for parents seeking an edutainment platform for their kids or even adults longing for a relaxing escape from reality with a nostalgic return to fairy-tale narrative charm - Merge Dreams is an absolute must!
What are the best online games?