MathTest22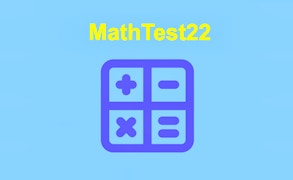 MathTest22
Description
Engage your brain with MathTest22, a challenging and fun educational puzzle game. This game is designed to test and improve your mathematical skills. It offers diverse problems ranging from simple addition and subtraction to complex algebraic equations. The difficulty increases as you progress, providing an enjoyable learning experience for those of all ages.
How to play
The gameplay in MathTest22 is straightforward and user-friendly. A mathematical problem will be presented on the screen, and you have to solve it within the time limit. Simply type in your answer using your keyboard and press enter. The game rewards both accuracy and speed, so the quicker you solve, the higher your score!
Tips and Tricks
To excel in MathTest22, practice frequently to increase your mental calculation speed. Keep a piece of paper nearby for more complicated problems, but remember, being quick is key! Lastly, don't be afraid of mistakes - they are part of the learning process.
Features
Variety of Problems: Offers a wide range of mathematics problems suitable for all skill levels.
Progressive Difficulty: Ensures an engaging experience by increasing difficulty as you advance through the game.
User-friendly Interface: Provides an easy-to-use platform that makes learning fun!
Score Tracking: Keeps track of your scores, encouraging continuous improvement.
What are the best online games?