Laser Puzzle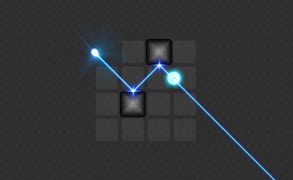 Laser Puzzle
Immerse yourself in the neurologically stimulating universe of Laser Puzzle, an innovative addition to the realm of brain games that promises hours of mental gymnastics and rewarding gameplay. This intriguing puzzle game invites you to ignite your brain cells as you strategize to light up all the bulbs with the lasers, catapulting you into a world of intellectual engagement and strategic thinking.
The brain games category has found its newest gem in Laser Puzzle, a game that challenges your mental mettle with every level. You'll find yourself wrestling with illuminating puzzles, maneuvering lasers across intricate layouts, bouncing beams off mirrors, and splitting rays to achieve your glowing victory. It's a brilliant display of logic meets recreation, coercing your mind to think outside the box.
Laser Puzzle is essentially a cerebral boot camp disguised in pixels. As you sail through each level, lighting up bulb after bulb, each laser-guided puzzle becomes increasingly complex. This escalating difficulty curve guarantees a constant sense of accomplishment while ensuring that boredom remains firmly at bay.
In essence, Laser Puzzle serves a dual purpose – providing fun-filled entertainment while simultaneously stimulating and enhancing players' cognitive abilities. It proves that brain games can indeed be captivating and leisurely at the same time. The bright graphics are easy on the eyes, while the soothing soundtrack makes for an immersive aesthetic experience.
Overall, if you're looking for engaging brain games that not only engage but also challenge your critical thinking skills, then Lighting up all the bulbs with lasers in Laser Puzzle will surely set your neurons ablaze with excitement. Make no mistake – this game is a radiant beacon in the realm of cognitive gaming."
What are the best online games?
TAGS