Home Design: Miss Robins Home Makeover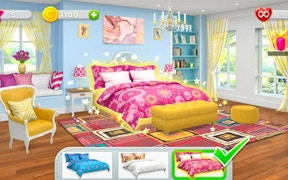 Home Design: Miss Robins Home Makeover
Discover the charming world of Home Design: Miss Robins Home Makeover, a compelling fusion of puzzle and home decor that elegantly marries the excitement of match-3 games with the creative freedom of building games. Set in radiant locales brimming with sunshine, this game effortlessly caters to fans of games for girls, fashion games and those who relish the serene satisfaction that only a well-crafted puzzle can provide.
Step into the shoes of Miss Robins, a burgeoning designer brimming with creative ideas and a keen eye for aesthetics. With her, you're invited into an enchanting journey through hundreds of fun, light-hearted match 3 puzzles coupled with immersive home designing experience. It's not just about matching candy, it's about creating power-ups that redefine your gaming experience - all while immersing you in the chic world of home decor and furniture design.
Artfully curated match-3 levels offer hours of captivating gameplay, as you tastefully decorate vibrant living spaces. Your challenge lies not only in solving each puzzle but also in your ability to pair individuality with style as you help Miss Robins transform each house into a masterpiece.
The dazzling combination of match 3 mechanics and building complements each other harmoniously, injecting the love for fashion games into its DNA. Sweeten your gaming experience by unveiling potent power-ups through matching candies – making Home Design: Miss Robins Home Makeover a delightful rendition among match 3 home makeover games.
In conclusion, this game is more than just about winning – it's about expressing your unique style while engaging in fun gameplay. If you're fond of fashion games, building games, or have an affinity for beautifully designed puzzles, then Home Design: Miss Robins Home Makeover is the perfect game to embrace your inner designer.
What are the best online games?