Fire Balls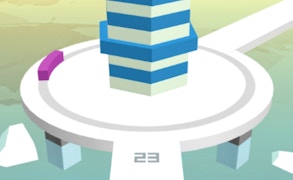 Fire Balls
Step into the incredibly captivating world of Fire Balls 3D, a thrilling entrant in the sphere of arcade ball games. In this tantalizing game of skill and precision, you are tasked with the mission to obliterate towers designed in various geometric shapes using fire balls, all while deftly avoiding an array of challenging obstacles.
The game effortlessly marries simplicity with addictive gameplay, making it a prime offering in the realm of skill games. Whether you are a seasoned gamer or an occasional dabbler, Fire Balls 3D promises to keep you on your toes, testing your agility and precision. One moment of distraction and it might be game over, but fear not—every defeat only stokes the fire to try again!
This arcade masterpiece offers far more than just simple destruction. In Fire Balls 3D's beautifully rendered universe, every destroyed tower unfurls into a mesmerizing explosion of color and particles. It's an aesthetic experience that makes every victory feel rewarding and pushes you forward for one more round.
The touch controls for Fire Balls 3D are nothing less than flawless. Each responsive flick and tap heightens your gaming experience, thereby ensuring that the exhilarating challenge offered by this game is supplemented by convenience at your fingertips.
In conclusion, Fire Balls 3D is not just another addition to the ever-growing list of ball games—it's a standout amidst them. Its tantalizing combination of fast-paced gameplay, stunning visuals and engaging challenges are bound to keep you coming back for more. So, ignite your gaming spirit and try out this absolute gem in the arcade genre today!
What are the best online games?
TAGS