Find my cat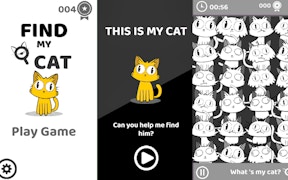 Find my cat
Description
In the enchanting game of Find my Cat, your beloved feline companion has gotten lost among a sea of other furry cuties. Your task is to uncover the hidden cat in a chaotic mess of confusing feline faces. It's a unique puzzle game that tests your observation skills and speed, with increasing difficulty as you progress through multiple levels.
How to Play
The gameplay is straightforward yet engaging. Your main objective is to spot and click on the missing cat from among numerous other cats. Time is crucial here, the faster you identify your kitty, the higher you'll score. Progression to next levels depends on how quickly you accomplish each stage.
Tips and Tricks
To excel in this game, focus on distinguishing features of your lost cat like color patterns or distinctive marks. Try to memorize them as they can help in quick identification later. The game rewards speed and observation. So, sharpen those skills for better progression.
Features
Pleasing visuals: Cute and appealing cat graphics keep the fun alive.
Favorable Difficulty Curve: Gradual increase in difficulty keeps the game challenging.
Rewarding gameplay: The faster you find the missing feline, higher are your chances to level up fast.
Addictive gameplay: The amusing search tests your observation skills and keeps you coming back for more.
What are the best online games?