Drift Car Extreme Simulator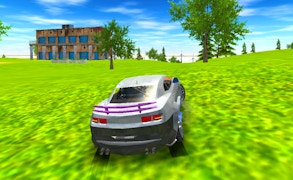 Drift Car Extreme Simulator
Rev the engine, flex your fingers, because we're delving into Drift Car Extreme Simulator, a standout driving game in the realm of car games and drifting games. Developed by Game Tap, it gears gamers up to experience adrenaline-inducing drift racing like never before. Suitable for both novice and advanced, it's not just a game — it's a voyage into the world of extreme simulation.
This immaculate blend of offroad games and simulator games puts you behind the wheel of high-performance beasts, prodding you to push your car to its limits. The feeling that accompanies burning rubber on tarmac is nothing short of intoxicating. A dedicated handbrake button makes drifting smoother than butter on a hot pan. And as you master the art, every drift helps sharpen your sports car driving skills — earning those coveted coins has never been more exhilarating.
But what really sets this title apart from other driving games is its attention to detail — right from convincing 3D animation to realistic smoke effects that follow your tire tracks in the form of deep smoke — everything screams quality.
In-desk crashes are inevitable as you're tasked with demonstrating your drifting skills while avoiding side walls for that perfect score. And as you paint the tracks with burning tires in this extreme car simulator, every power slide leaves behind an unforgettable trail of smoke – visually embodying your triumphs.
In conclusion, Drift Car Extreme Simulator isn't simply another addition to racing and offroad games, but a true homage to drift racing that doesn't just let you play but teaches and thrills at the same time. It's sure to fuel any drift-car fanatic's addiction while providing an impulsive, gripping gaming experience. So gear up, take the wheel, and start blazing trails in this exceptional drifting simulator.
What are the best online games?