Barbie Fashion Hair Saloon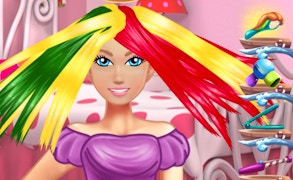 Barbie Fashion Hair Saloon
Experience an enchanting and fabulous world with Barbie Fashion Hair Saloon, a delightful addition to the realm of games for girls. This highly engaging game brings together the vibrant worlds of fashion games, dress-up games, and hairdresser games. Offering an array of playful and chic hairstyles, it's not your typical barbie games, it's an entire universe that revolves around creativity, elegance, and style.
In Barbie Fashion Hair Saloon, Barbie isn't just your run-of-the-mill fashionista. She runs a high-end hair salon that caters to special guests. The catch? This isn't any ordinary hair salon. It's a magical space where a princess can always look chic and elegant, making it one of the most captivating makeup games.
The game aims to create original hairstyles for Barbie using various items and styles. It's not just about trying on different looks, but about pushing the boundaries of Barbie's style repertoire. The options are endless - from cascading waves to sleek buns to wild curls! It perfectly echoes the real world of fashion, where there are no rules except for one: Be original!
Each hairstyle crafted in the salon is more than just about how it looks; it's about how it makes you feel - Confident, sassy or even regal! So if you're searching for unique barbie games, or simply want to explore your creative streak in fashion games, Barbie Fashion Hair Saloon is the virtual playground where you should be.
Packed with adventure, creativity, and style, Barbie Fashion Hair Saloon is redefining what we know as traditional girls' games by offering an immersive experience that encourages individuality and self-expression. Step into this fabulous world and create unique hairstyles like never before!
What are the best online games?