Water Crysis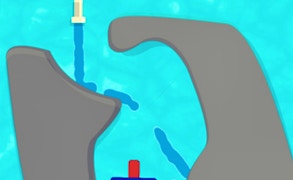 Water Crysis
Unleash the power of your mind with Water Crysis, a fresh and exhilarating brain game that provides an astounding blend of fun and learning for all ages. Renowned as one of the best Games for Kids, this bright gem in the realm of arcade amusement is swiftly gaining traction in the gaming community, guaranteeing an experience that not only stimulates your cognitive prowess but also keeps you entertained.
The central mission in Water Crysis is refreshingly simple yet undeniably engaging: guide water through a complex network to reach parched trees. Navigating this intricate puzzle is an adventure that pushes your mental acuity to its limits, making it a perfect addition to your collection of brain games.
The game controls are amazingly intuitive - rotate objects with a swift mouse click and hit 'Ready' when you've determined the optimal route. Each successful round leaves you wanting more, as you become increasingly engrossed in strategically carving out a path for our essential life-giving liquid. It's easy on the eyes too, boasting vibrant graphics and unique designs that add to its charm.
Learning games don't get much better than this. Water Crysis seamlessly blends strategic thinking, problem-solving, and cause-and-effect outcomes into one captivating package while enhancing kids' intellectual health. Moreover, each victory instills a fulfilling sense of accomplishment that only encourages further exploration.
In summary, Water Crysis, with its interactive gameplay and beautiful design aesthetics, offers a rare treat – serving as both entertainment and educational tool. So why wait? Dive into this vibrant world and let your brain juices flow while nurturing Mother Nature's green soldiers!
What are the best online games?