Dinosaurs World Hidden Eggs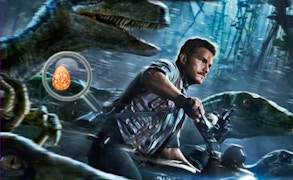 Dinosaurs World Hidden Eggs
Unleash the prehistoric beast within you and dive into a world teeming with dinosaur delight in our latest review of Dinosaurs World Hidden Eggs, an innovative blend of brain games, hidden object games, and dinosaur games. This immersive puzzle game takes you on an exhilarating trip back in time, a cerebral expedition that is both fun-filled and educational.
Dinosaurs World Hidden Eggs offers an exciting twist on the classic hidden object game genre. The game keeps your brain cells buzzing as you search for hidden alphabets amidst vibrant and adorable dinosaurs. Far from being terrifying lizards, these dinosaurs are endearing with their cute, cuddly appearances encouraging your continuous engagement in the game.
With five challenging levels of increasing difficulty, Dinosaurs World Hidden Eggs cleverly tests your visual acuity, motor skills, cognitive abilities, and your pure love of all things dinosaur-related. The intense time pressure added to every level cranks up the adrenaline and ensures that this brain-teasing quest remains captivating and tough till the very end.
For those who love to pit their strategies against the clock, Dinosaurs World Hidden Eggs provides a thrilling reckoning. It delivers not just a test of rapid-eye-movement but also demands quick mental reflexes to spot hidden alphabets. Do you have what it takes to score high in this mesmerizing challenge?
From its eye-catching graphics to its engaging gameplay, Dinosaurs World Hidden Eggs promises a memorable experience for both seasoned gamers and novices alike. So, if it's fun you're after or a way to use your noodle while indulging your love for dinosaurs - this is the perfect game for you!
To sum it up, Dinosaurs World Hidden Eggs brings together elements of brain games, hidden object games and dinosaur games into one captivating package. It's an absolute must-try for every gaming enthusiast looking for fresh adventures beyond conventional genres.
What are the best online games?