Uno Online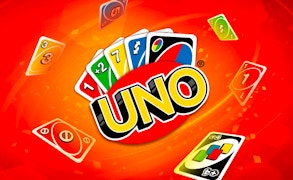 Uno Online
Card games are universal in that anyone can learn them, anyone can play them, and they can appeal to anyone which is why Uno Online works so well. An online version of the game of the same name, Uno established itself as a party game years ago and is still played today among people of all ages. What makes the game so deceptive is that while it has a colorful and fun appearance, it can quickly turn into a competitive and intense affair. If this does happy, you'll see special cards flying back and forth in an attempt to get back on top.
About Uno Online
Boredom is rampant and some games exist just to consistently provide an option to deal with it. Even if you have never played Uno before, you can learn it in just a matter of minutes. If you were to watch one round, you'd be able to play just like any other expert. However, this game gives a fair chance to everyone since it's highly dependent on luck as well as how you apply your own skill to what you get. It's a game to be played casually but you can change a whole night's energy by pulling this up and trying to do your best.
How to Play
Uno Online is a card game about thinking and playing quickly that you can play using the mouse. Depending on the number of players, all cards will be dealt out evenly until the deck is finished. Turn order goes clockwise and when it's your turn, just click on the card you want to play to add it to the pile. You can only play cards that have the same number or color as the previously played card, the only exception being certain special cards.

The goal is to get rid of all the cards in your hand. When you do this, you tally all the cards in to pile and add them to your score. The first player to reach 250 points after how many rounds, wins the game. Remember to press the one button that you only have one card left when it comes down to it or your need to draw two penalty cards.
Tips and Tricks
Though this game relies on a bit of luck, it also requires a lot of strategy. Special cards are not common and should only be used to maximum effect, so don't waste them just to keep the game going. Try to keep your hand diverse so that you can prepare for everything.
Uno Online Special Cards
The standard cards are colorful cards depicting different numbers. In addition, there are special cards that can change the game when played.
Action Card - Depicted by a hand a + symbol, it forces the next player to draw two cards and then miss their turn.
Skip Card - With a stop sign symbol on it, it forces the next player to miss their turn.
Reverse Card - Showing arrows in a circle, this card reverses the turn order.
Wild Card - A colorless card that lets you change the color of the card pile.
Wild card Three - A combo of Action and Wild Cards, it forces the next player to draw three cards and lets you change the card pile color. This card can only be played if you have no other playable cards.

Game Details
Platforms: Web Browser (PC and mobile), iOS, and Android
Languages: English, French, Italian, Spanish, Portuguese, Japanese, German, Arabic, Indonesian, Turkish, Chinese, Hindi, and Russian.

Gameplay Footage
FAQs
Is this game free?
Uno Online is affordable across multiple platforms and all of them let you play the game online for free as long as you have a reliable internet connection.

Games similar to Uno Online
Since this game is so accessible, it fits into the categories of Family and Board Games on GamePix. Other such titles in these sections include Snakes & Ladders, Duo with Friends, Game of Goose, and Battleship Game.
What are the best online games?
TAGS