Valley 3D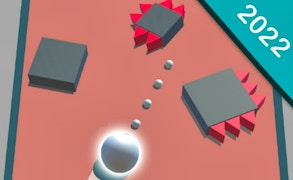 Valley 3D
If you're a fan of hyper-casual games, prepare to be immersed in the exhilarating world of Valley 3D. This irresistible cocktail of fun and challenge beckons you into the realm of ball games like no other.
Valley 3D isn't just a game - it's a test of your precision, reflexes, and most importantly, your skill. It fits snugly into the category of skill games, where every move you make could mean triumph or defeat. The goal? Manoeuvre a spirited ball through treacherous valleys filled with various obstacles, aiming for the highest score possible.
The beauty of Valley 3D lies in its simplicity - touch and hold down the ball to slow it down, aiming your shot for maximum points. But don't let this deceive you. Mastering the game requires more than just aim and touch; it's about understanding the rhythm, learning when to slow down or speed up, timing each move to perfection.
Beyond its thrilling gameplay, Valley 3D woos its players with stunning 3D graphics; a visual feast that will have you hooked from start to finish. It's one thing to guide your ball through intricately designed levels on a flat screen; it's another altogether to immerse yourself in an encompassing world where every millimetre counts.
In essence, if you're seeking a game that marries technical skill with casual playability, Valley 3D is your perfect match. It masterfully blends elements from both ball games and skill games, creating an addictive combo that's hard to resist. Jump into this ball-aiming ride and prepare to lose track of time; Valley 3D promises more than just scores – it delivers unlimited replay value.
Feel the rhythm, nail your timing, and become the king or queen of this hyper-casual kingdom. Are you ready for Valley 3D?
What are the best online games?