Tim the Traveler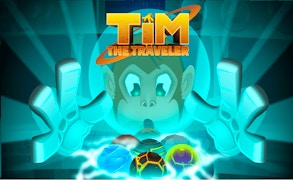 Tim the Traveler
Description
Step into the shoes of Tim the Traveler, your favorite time-traveling turtle. Embark on an epic journey across various landscapes and time periods - from prehistoric jungles to futuristic cities. The game cleverly combines puzzles and adventure elements, testing your wit and reflexes, as you uncover hidden clues to progress in this intriguing game.
How to play
In Tim the Traveler, use your keyboard arrow keys or swipe on a touch screen to move Tim around. To solve puzzles, interact with objects by clicking or tapping on them. Collect items throughout the game and use them wisely to overcome obstacles. Each level concludes with a puzzle, solving it will allow Tim to move onto the next level and time period.
Tips and Tricks
Paying attention to details is crucial in this game. Objects in the surroundings could be vital clues for puzzles. Remember, some items can be combined in your inventory to create useful tools. If stuck, don't hesitate to revisit previous areas as you might have missed something important.
Features
Engaging Storyline: Traverse through different time periods with surprising twists and turns.
Intuitive Controls: Easy-to-use interface suitable for gamers of all ages.
Diverse Puzzles: Different types of puzzles challenge your problem-solving skills.
Vivid Graphics: Stunning visuals that depict each time period beautifully.
What are the best online games?
Tags