Teen Patti Match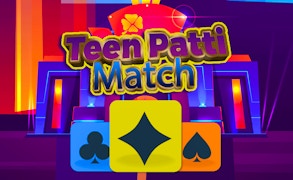 Teen Patti Match
Description
Get ready to immerse yourself in the addictive world of Teen Patti Match, a unique match-3 online puzzle game. The goal is simple yet captivating - erase all the teen patties from the board by matching at least three identical ones. While the game appears straightforward, you'll soon discover the increasing difficulty and complexity that makes mastering this game a delightful challenge.
How to Play
To play, simply click or tap on a teen patti to select it, then click or tap to an adjacent spot to swap its position with another, aiming to align three or more identical teen patties. As you progress through levels, you'll encounter more challenging boards and patterns, keeping you engaged and your brain on its toes!
Tips and Tricks
Vary your approach and strategy as you ascend through the levels. Use cascades - aligning matches so that new matches are formed after blocks are removed - for higher scores. Additionally, keep an eye out for opportunities to match more than three patties at once for bonus points.
Features
Engaging gameplay that challenges your puzzling skills.
A range of levels with increasing difficulty.
Achievements and high-score leaderboard for competitive play.
Suitable for all age groups with its family-friendly content.
Addictive match-3 mechanics with an exciting twist.
What are the best online games?
Tags