Swing Cute Cat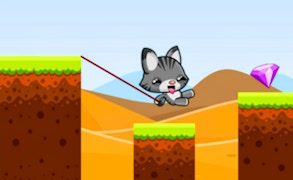 Swing Cute Cat
Welcome to our arcade game review, today we are diving into the world of Swing Cute Cat, one of the most captivating cat games to hit the digital market in recent times. This animal-themed arcade extravaganza, seamlessly marries enjoyment with skill enhancement, thereby setting an impressive benchmark for future animal games.
In Swing Cute Cat, you're not just playing a game – you're embarking on a mission. Your task? To help our whiskered hero skillfully navigate through treacherous platforms using nothing but a cat rope. Your heart will race, and your palms might get sweaty - but don't let the cat fall! It's an adrenaline-inducing experience that tests your reactions and revamps your gaming prowess.
This is not just about reaching next levels: it's about collecting glittering gems for extra points. These aren't mere accessories; they are your ticket to boosting scores and showcasing your improved abilities in these exciting skill games. In this game, every gem is precious - every swing counts!
Swing Cute Cat transcends the usual gaming experience with its stunning graphics that make the action come alive. Its intuitive interface is a testament to exceptional game design. It's more than an arcade game; it's a visual delight that immerses gamers into a dynamic universe where cats defy gravity!
The game appeals to both casual and serious gamers alike. If cat games or animal games strike your fancy, Swing Cute Cat offers an exhilarating escape into feline dexterity and reflex building. Every swing, every leap, every gem collected makes you part of this exciting arcade adventure.
In conclusion, Swing Cute Cat stands tall as a beacon of creativity in the realm of animal games and skill games, providing players with hours of delightful gaming experience. This arcade game not only challenges your hand-eye coordination but also offers an engaging storyline that will keep you on edge! So why wait? Grab your digital catsuit and start swinging!
What are the best online games?