Sweet Candy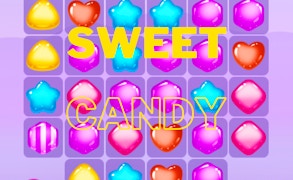 Sweet Candy
Description
Welcome to the sugar-coated world of Sweet Candy, a delectable match-3 adventure where you combine tasty candy pieces. With each successful combo, players will experience a rush of excitement. Keep your eyes open for unique candies like Bombs, Swap and Color picker, which make your gameplay infinitely more interesting. Players can also collect bonus coins after each level to purchase exciting items from the game shop.
How to play
Your mission is simple: swap two adjacent candies to form a chain of three or more identical candies. Create bigger chains for more bonuses! You can use special items like Bomb that blasts away surrounding candies, Swap that allows you to change the position of two candies, and Color picker that allows you choose any color of candy on the board. Earn bonus coins upon completing each level and spend them in the game shop.
Tips and Tricks
Aim for combos as large as possible - bigger chains give higher points! Don't forget about special items like Bombs or Swaps which can help in tighter situations. Keep an eye on your remaining moves. Strategize your moves wisely and make use of items from the shop wisely as per needs.
Features
Dynamic match-3 gameplay with colourful candy pieces.
Special power-ups like Bomb, Swap and Color Picker to enhance game experience.
Bonus coins after each level for purchasing items from the game shop.
Aesthetic visuals paired with an engaging sound design adds to the gaming experience.
What are the best online games?