Sweet Baby Spot the Difference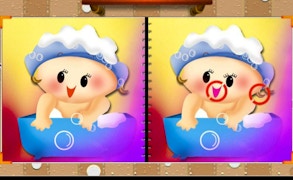 Sweet Baby Spot the Difference
Stepping into the mesmerizing world of Kids' Puzzle games, we bring you an exciting review of Sweet Baby Spot the Difference, a cherished addition to the genres of memory games, brain games, and baby games. Designed with a cornucopia of vibrant visuals and mind-boggling puzzles, this game promises to be a delightful playground for your child's mind.
Artfully woven into the fabric of an engaging playground, Sweet Baby Spot the Difference offers a unique blend of fun and learning that subtly fascinates your child while training their brain through playful puzzle-solving. The goal is simple: find the subtle differences peppered across two seemingly identical images. But don't be tricked by this simplicity; sometimes these differences are as elusive as a chameleon in a leafy jungle.
Each puzzle unraveled immerses your child in an enchanting journey, where every detail matters. These are not just brain games or memory games; they are tiny lessons teaching your children to concentrate and observe meticulously. Interactive dialogue about each picture further enhances their creative communication skills while refining their eye for detail.
The game also includes an innovative feature that allows you to print out these puzzles, making it interactive beyond digital boundaries! By letting your kids mark these differences physically on paper, it delivers a wholesome tactile experience that supplements digital entertainment with traditional play.
Thus, Sweet Baby Spot the Difference serves as more than just an ordinary game - it's an enriching experience that wraps education within the bright paper of enjoyment and gifts it to our young ones -a gift they would never want to return.
The beautifully crafted puzzles will not only keep your tiny tots engaged but also instill in them a sense of achievement that makes learning via gaming such an appealing concept in today's age.
What are the best online games?