Shape Race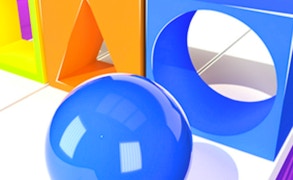 Shape Race
Get ready to put your reflexes to the test with Shape Race, an exhilarating entry in the arcade genre that offers a refreshing blend of ball games and skill games. This is not your ordinary run-of-the-mill arcade game, it's a unique fusion of finesse, strategy, and lightning-fast decision-making.
Shape Race dares to challenge your dexterity and timing, as you swipe left and right to navigate your shape through a labyrinth of obstacles. The simple touch controls are both intuitive and responsive, ensuring that any blunders are solely down to player error rather than clunky mechanics. You quickly find yourself becoming immersed in the frenzied world of Shape Race as you deftly manoeuvre the shape roll with precision.
The real beauty of this game rests in its simplicity; the objective is clear-cut – guide your shape across an obstacle course without crashing. However, don't let that fool you into thinking this game lacks depth. The difficulty level increases incrementally as you progress further into the game. This ensures that keeping your shape on track becomes easier said than done as you ascend through the levels.
The graphical design perfectly complements the fast-paced nature of gameplay. While playing Shape Race, you'll appreciate how well its design threads into every aspect of the gameplay, making it a vibrant spectacle for both players and spectators alike.
In summary, Shape Race is a thrilling addition to the world of online arcade games. It indeed sets itself apart from other ball and skill games with its innovative mechanics and engrossing gameplay that will keep you coming back for just 'one more go'. Whether you're an old-school arcade fan or new to the genre, Shape Race promises an adrenaline-fueled experience that's worth checking out.
So why wait? Swipe right into Shape Race, sharpen those reflexes, and let's see how far your shape can roll!
What are the best online games?
Tags