Monster Match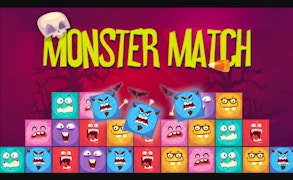 Monster Match
Introducing Monster Match, the revolutionary game blending the thrilling elements of match 3 games and monster games. So, if you are a die-hard fan of match 3 puzzles and have a soft spot for cuddly monsters, this game will truly be your cup of tea.
Dive into a world where our adorable monsters are stirring things up! It's not often you get to call monsters 'cute', but Monster Match flips the script and takes you on an epic journey filled with lighthearted fun. The aim? Match these mischievous monsters in lines or groups of three or more to make them vanish off the screen.
Monster Match doesn't just test your matching abilities. It truly pushes your strategic thinking to the limit. In this game, every movement matters and planning ahead is key. The puzzles become progressively challenging, pushing you to constantly adapt your strategy.
A striking feature of Monster Match is the characterization of these lovable monsters. Each has its distinct personality that adds an extra layer of fun to the popular match-3 gameplay.
The graphics also deserve praise for their vivacity and attention to detail. The backdrops are beautifully crafted to immerse players into a fascinating monster universe. Moreover, the soundtracks contribute significantly in intensifying the game's atmosphere, making it contagiously energetic.
In conclusion, Monster Match brilliantly combines the best aspects of match 3 games and monster games, offering a fresh take on puzzle gaming genre. Its innovative features place it in its own league amongst countless puzzle games available today.
If you're in search of a challenging yet entertaining game that tightens your grip on strategic thinking while providing hours of fun, then Monster Match should be top on your list! Let these cute monsters take you on a marvelous adventure like no other.
What are the best online games?