Mermaid Puzzle Challenge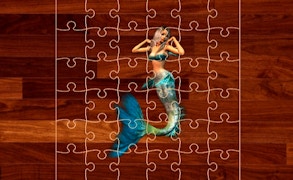 Mermaid Puzzle Challenge
Dive into a captivating underwater world with our latest Mermaid Puzzle Challenge review. This enchanting mermaid game ticks all the right boxes for those seeking a delightful blend of mystique and intellectual stimulation. As an online game, you can enjoy it wherever you are, completely free of charge.
The concept is simple yet engaging. The game is built around twelve beautifully designed jigsaw puzzles, each encapsulating a different facet of daily mermaid life. One minute you could be piecing together a vibrant coral reef, the next an intricate mermaid palace.
The challenge comes in when these charming images are shattered into multiple tiny pieces. Now, it's your task to reconstruct them to their original glory! This element introduces a stimulating brain exercise making this game not just another among brain games, but a definitive contender for top honours.
The time pressure adds to the excitement, forcing you to push your mental agility to its limits in search of the correct positioning for each piece. It requires swift decision-making and sharp analytical skills - ideal attributes for puzzle lovers who enjoy testing their mind's mettle!
The surreal beauty of the mermaid scenery combined with the quick-thinking challenge creates an absorbing balance that keeps you coming back for more. The aesthetic appeal of the Mermaid Puzzle Challenge makes it an easy favourite among both children and adults.
In conclusion, our review finds that the Mermaid Puzzle Challenge delivers on all fronts: it's captivating, challenging, and most importantly - fun! It works your brain muscles effectively while enveloping you in an engaging mythical universe where mermaids reign supreme.
If you're on the hunt for online games that offer both entertainment and substantial cognitive benefits wrapped up in one attention-grabbing package - make sure you try out the Mermaid Puzzle Challenge today!
What are the best online games?