Mathematical Crossword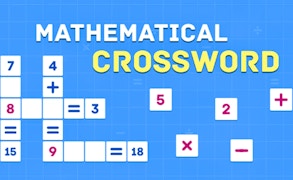 Mathematical Crossword
Delve into the fascinating world of Mathematical Crossword, a remarkable blend of brain-games, math-games, and number-games. This innovative game will push your mental agility to its limit, challenging you to solve intricate mathematical crosswords that are dynamically and randomly generated for a unique gaming experience every time.
The game is masterfully crafted, giving you the freedom to tailor your gaming experience according to your skill level. Choose the difficulty level that matches your math prowess, whether you're a novice or a seasoned number cruncher. The game also allows you to toggle arithmetic symbols on or off to keep the puzzles fresh and unpredictable.
Arcade mode, one of the game's standout features, throws you into an exciting tour de force of brain-teasing puzzles. Here, you're required to solve crosswords step by step, earning ranking points along the way. The intensity and complexity gradually spiral upwards with each solved puzzle, maintaining a dynamic rhythm that keeps you hooked with bated breath.
The developers demonstrate thoughtful design by including a convenient exit option in arcade mode. Through this, players can quit and save their progress at any point—truly a testament to player-centric design.
In summary, Mathematical Crossword brilliantly combines the captivating appeal of crossword puzzles with the mental stimulation offered by math-games. It is a fantastic addition to your gaming repertoire if you're looking for something intellectually stimulating and wildly entertaining. Ready to push your cognitive boundaries? Dive in!
What are the best online games?