Lucky Solitary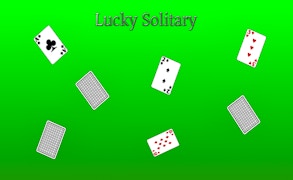 Lucky Solitary
Description
Step into the thrilling world of Lucky Solitary, a unique game that blends strategy and luck. Aimed to spice up solitary games, it innovatively turns traditional playing on its head with its clever twist. Your mission: dodge cards numbered 1, 2 and 3 while maneuvering your way through the deck. But be warned - every move you make might turn your luck around!
How to play
The game is simple to play but hard to master. Using mouse controls, select a card from the tableau or draw pile. The objective is to stack cards in descending order while avoiding cards numbered 1, 2 and 3. Progress is achieved by strategic planning and a bit of luck.
Tips and Tricks
Remember, in Lucky Solitary, sometimes less is more; minimising moves can boost your chances of success. Also, focus on managing your draw pile; reveal hidden cards when possible, but be careful not to trap yourself with unplayable 1's, 2's or 3's.
Features
Innovative twist on traditional solitary games.
Addictive gameplay that combines strategy and luck.
Immersive graphics that bring the game vividly alive.
Easy-to-use controls ideal for players of all skill levels.
What are the best online games?