Kids Room Spot the Differences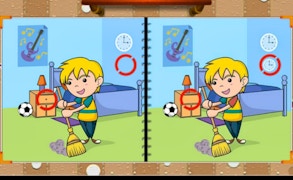 Kids Room Spot the Differences
Unleash your child's inner detective with the engrossing Kids Room Spot the Differences by Video-Igrice.com. It's not just a game, it's an enchanting brain teaser designed to entertain, educate and ignite intrigue in the vibrant minds of our young ones.
This game falls right in the crossroads of memory games and puzzlers, creating an electrifying mix that will captivate kids while enhancing their cognitive skills. It puts players' powers of observation to the test, proving that there's more to these vibrant illustrations than meets the eye.
Let your child's sense of discovery soar as they find themselves immersed in rooms full of colorful chaos, engaging their attention like a whimsical whodunit. This isn't merely a challenge–it's a journey into a world filled with intricate details that will stimulate their grey cells and kindle their sense of achievement every time they spot those sly differences.
In every stage of Kids Room Spot the Differences, players are presented with two seemingly identical images and given the task to identify five subtle deviations between them. Sounds simple? Not so fast! With distractions aplenty, this game definitely knows how to up the ante and keep those little neurons firing.
Whether you are looking for fun-filled brain games or high-quality Games for Kids, Kids Room Spot the Differences should be top on your list. It's a spectacular blend of fun and learning, keeping kids engaged while also developing their attention to detail and memory strength - skills that will help them far beyond the screen.
Kids Room Spot The Differences, with its captivating visuals, immersive gameplay, and stimulating challenges is much more than its title suggests—it's an interactive tool for growing brains. So why wait? Let your child dive into this brainy feast and let them enjoy while they learn!
What are the best online games?
TAGS