Girls on Job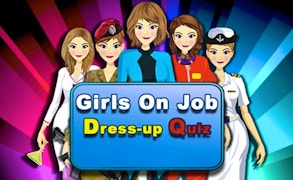 Girls on Job
Welcome to a vibrant review of the playful world of Girls on Job, an interactive wonderland that weaves together elements of Games for Girls, trivia games, and dress up games. The fantastic realm of this game offers a refreshing perspective to the gaming experience for kids, especially girls, who are ready to dive headfirst into the enchanting universe it offers.
Girls on Job is an innovative venture that breaks away from typical dress up games. It introduces young gamers to the concept of professionalism and work ethic cloaked in fun and style. It epitomizes the ideal blend of business with fashion, crafting a narrative for kids regarding the contemporary, empowering role women play in today's demanding world.
Young fashionistas are given the chance to step into a stylist's shoes and let their creative juices flow. They can design chic, stylish yet professional attire for successful, career-oriented women who refuse to compromise their love for fashion in their bustling lives. In this spectrum, business clothing does not denote dull or boring but radiates confidence and style.
Moving beyond just dress up games, it introduces intriguing elements of trivia games as well. Players navigate through various professional sectors such as accounting, finance, IT, and even the exciting world of games industry. This rewardingly educative aspect ensures that 'Girls on Job' stands out in the crowded domain of Games for Girls.
If you've been waiting eagerly for something beyond ordinary dress up games, your search ends here. With a captivating concept like no other and an empowering storyline that would excite any young girl, Girls on Job certainly raises the bar in terms of quality content under Games for Girls. Embark on an adventurous journey of fashion saga interwoven with compelling trivia – because with Girls on Job, fun meets learning!
What are the best online games?